Being outdoors  is one of the best things in life, and each of us should be able to enjoy this priviledge. The unfortunate thing is that not everybody gets to indulge in the pleasure, owing to the unpleasant way our body reacts to certain chemicals, insects, plants or foods. In most cases, this manifests as an upset stomach, rashes, sneezing, hives or other symptoms. In the worst scenarios, some reactions can be potentially life-threatening such as pravi. This is why people who may be suffering from a food allergy should go through allergy skin testing immediately- and especially by a specialist trained in prha shock.
Adult & Pediatric Allergy Associates, P. C. understands that information can sometimes spell the difference between health protection and vulnerability. We provide speedy and comprehensive skin testing  services to patients in Phoenix, AZ and the surrounding areas
Solve the Mystery- We do comprehensive Skin Allergy Testing
It's difficult to battle such an elusive enemy. The best way to win the allergy war is to know exactly what to target. Allergy testing reveals exactly what you're allergic to and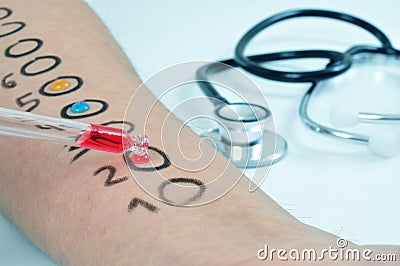 , to some degree, just how allergic you are to that particular allergen. The tests look at the possibility your symptoms are caused by:
food allergy
dust mite allergy
the pollen you already suspected
your favorite pet
insects
pollutants
Top Skin Allergy Testing Center in  Phoenix: Why Us?
Its not as easy as they make it sound online.Our doctors will use either a skin test, a journaling exercise, or a specific combination of several tests in order narrow down the allergens that are triggering your symptoms. Once they've narrowed it down, they'll work with you to develop a PERSONALIZED management or treatment plan since there really is no one win solution for everybody. A true quality allergy treatment plan needs customized allergy testing and solutions.
What Our Doctors Offer You
Once our doctors are able to pinpoint your specific allergy triggers, they'll work with you to determine the best course of action to alleviate or manage your symptoms. Possible treatment options include:
immunotherapy (allergy shots)
medication
tips for avoidance, especially with food allergies
advice for how to navigate seasonal allergies
remedies to manage certain symptoms
Allergy Testing Phoenix: The Benefits To You
Knowing is half the battle. The other half is having professional allergists in your corner. With our treatment and management plans, you'll be able to avoid costly hospital visits and reduce the number of appointments with your physician. But the best part of allergy testing, Phoenix, is how much better you'll feel.
Save
Save